Borland Conference 99
A very limited and short report (with photographs from friends) on the 10th Borland/Inprise Conference, help from the 17th to the 21st of July in Philadelphia.
You can find more information on the following sites:
Here are a few pictures I've received
Me and Bob Swart getting the Spirit of Delphi award from Ben Riga and David I. I'm the one on the staircase, barely visible...
---
And here is the logo of award itself....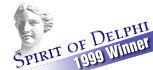 ---
Me on the phone
---
Me and Ben Riga (Delphi product manager) at the Delphi 5 party
---
Same... this was monday evening.
---
Thanks to Tom Niderost and Nikolai Sklobovsky for the pictures.